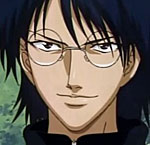 Oshitari Yuushi
Laid-back and self-assured Oshitari is one half of Hyoutei's star doubles pair. Described by Atobe as Hyoutei's tennis prodigy and its "most troublesome" guy, Oshitari is coiled, carefully contained danger waiting to be released. He resembles nothing if not a wild feline sleeping in the sun, graceful and deadly at once.
Oshitari is the sort of guy that purrs instead of speaking and is never fazed by anything around him. He is undoubtably just as arrogant as Atobe, but unlike the captain, feels no particular need to flaunt himself. He doesn't need to, because he has what so many want and so few trully have; quite simply, Oshitari is what they had in mind when they invented the term "cool".
And yet, there is another side to Oshitari Yuushi, a side that isn't inmediately evident to readers and probably not to most of his team mates either. In his image song, Oshitari refers to himself as "poker face"; the most obvious meaning of this is that he doesn't reveal his weaknesses or his true strength lightly, but it also means that he doesn't show his true self easily, prefering to hide behing his cool persona (this is rather explicitly exemplified by the fact that he chooses to wear glasses even though he has perfect vision). Underneath it all, Yuushi is an extremely sensitive guy, who enjoys watch sappy romance movies, cries easily, and is fiercely loyal to friends. (This was all revealed in 20.5, btw).
Blood type: A
Birthday: October 15
Height: 178cm
Dominant hand: right
Favorite foods: "kazu" juice, "sagoshikizushi"
Hobbies: watching sappy romance movies
Best subjects: Math, Chemestry, Applied Arts
Fave colors: red
Seiyuu: Kiuchi Hidenobu